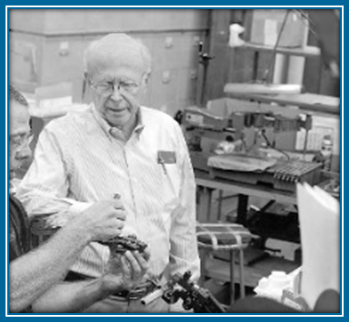 Lowell C. Johnson (grandson of Charles G. Johnson) has led the Johnson Gage Company since 1979 following the retirement of his father and uncle.
An industry pioneer and leader, Lowell sets the tone for everything done at Johnson Gage. His enthusiasm, intellect, attention to detail, work ethic, personal faith and persistence to exceed client expectations are the foundation for every innovation, decision and action at the company.
Lowell is incredibly proud of his team. "We hire and hold onto people with the right stuff. The pride that our employees have in their work is what drives our industry reputation for excellence, innovation and precision". In his nearly 40-year tenure, Lowell has yet to lay off a single employee, despite weathering several economic recessions often requiring Lowell to dip into his own pockets to avoid layoffs.
Lowell's son Eric Johnson (based in California and great-grandson of Charles G. Johnson) leads the company's sales and marketing efforts.
Lowell has positioned the company for continued future success and has organized operations so that being a Johnson isn't a prerequisite to being a member of the company's leadership team.
Matthew Woods, General Manager of the company's manufacturing facility in Bloomfield, CT shares that "what differentiates us from so many precision manufacturers in our industry and others is that for more than 75 years, we've invented, designed and manufactured every product we bring to the market entirely in-house with our own people. Lowell, like his father and uncles, is also assertive about us contributing to industry standards refinement so requirements reflect and can be relied on to meet the sophistication of our clients' ever-evolving needs. When a Black Hawk helicopter, the Space Shuttle or thousands of family cars off the assembly line depend on screw thread dimensional conformance and performance reliability, we know our customers have zero tolerance for not getting it right. That's how our team approaches every day at Johnson Gage."